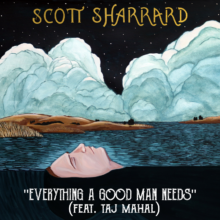 Gregg's longtime guitar player and musical director Scott Sharrard is set to release a new studio album on September 21st.  The album, entitled Saving Grace, includes a song that was co-written by Scott and Gregg, "Everything A Good Man Needs".  The song features Gregg's great friend Taj Mahal on vocals and as Rolling Stone Magazine says – "It's the sort of recording Gregg Allman would've once made: rooted in the music of his predecessors, with enough electricity and elastic musicianship to inspire the next generation of Southern sons."
Scott Sharrard says, "I wrote this song with my late friend and mentor, the legendary Gregg Allman. We planned on including this one on his final album "Southern Blood" but we ran out of time as it was during a steep health decline for him, and he ultimately succumbed to cancer before we could record this one. This was the first song we ever wrote together. We started it way back in 2013 or so.
Whenever we would pull into a town or a hotel on the road and Gregg was excited to be there he would usually say…"this place has everything a good man needs." I remember thinking this would be a great title for a song and filed it away. As we started to carve away on a groove, we were constantly referencing our mutual hero, Johnny "Guitar" Watson.
This song is definitely a true story with references to Gregg's life on the road. We just wanted to do a fun, funky, blues with a tongue and cheek message about finding love out on the road. It came together over the course of the year, I was really proud of that bass line hook of the song that Gregg came up with.
Gregg Allman's lifelong best friend and confidant, Chank Middleton, helped me get a demo of this song to Taj Mahal way back in early 2017. To my delight, Taj called me up and said he loved the track and would like to cut it on a record. Since he didn't have plans to do a record of his own soon he offered to sing it on mine. I was thrilled of course, as Taj is a personal musical hero, and at this point probably Gregg's favorite living singer. It felt like Gregg would approve.
Listen to "Everything A Good Man Needs" here.