Gregory LeNoir Allman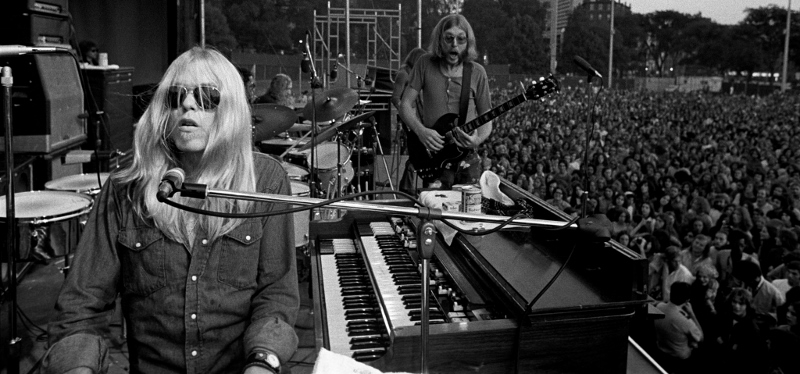 Gregg Allman is undoubtedly among rock and roll's greatest and most influential artists, his soul-fired and still utterly distinctive voice one of the defining sounds in all of American music. From his founding role in the one and only Allman Brothers Band to his long and storied solo career, Allman has proven himself an iconic singer/songwriter and exceptional practitioner of the American blues tradition. The survivor of unimaginable loss, alcohol and drug addictions as well as a successful 2010 liver transplant, Allman has also accrued a remarkable list of honors over his five decade career, including the ABB's 1995 induction into the Rock and Roll Hall of Fame and 2012 Lifetime Achievement Award at the 54th Annual GRAMMY® Awards as well as his own 2006 induction to the Georgia Music Hall of Fame.
Allman was born December 8th, 1947 in Nashville, TN, a little more than a year after his older brother Duane. Raised by single mom Geraldine, the family moved to Daytona Beach in 1959, though the brothers would spend considerable time back in Nashville. Music City was an inspiration to Allman. He attended his first concert – starring Jackie Wilson, Otis Redding, B.B. King, and Patti LaBelle – and with the guidance of a neighbor named Jimmy Banes, fell in thrall to the power of a guitar. Nashville's pull continued long after the family moved, with the brothers both hooked on local radio station WLAC's legendary late night R&B broadcasts.
Allman earned enough delivering newspapers to afford a Silvertone guitar, which he and his older brother then proceeded to fight over for years. They made their on-stage debut as part of a YMCA youth group in Daytona Beach, uniting their first band – The Misfits – while attending Castle Heights Military Academy in Lebanon, TN. In 1963, the brothers returned to Florida, rocking Seabreeze High School with their next beat combo, The Shufflers.
The Allman brothers were less interested in school than they were in pursuing their own musical education, spending all their cash on records or sitting in with local R&B outfit The Houserockers. They put together what Allman calls his first "real" band, The Escorts, and began gigging around the Daytona Beach area, proving so busy that Gregg skipped his Seabreeze graduation to perform with his band.
Having won over Daytona Beach, the band – now known as The Allman Joys – headed out into the world, beginning with a 22 week run at Mobile, AL's Stork Club. An extended booking at Pensacola's Sahara Club proved a milestone for Gregg, his first true lesson in stagecraft as well as where he bought his first keyboard.
1966 saw The Allman Joys travel to Nashville for their first true session, with songwriter John D. Loudermilk producing. The band's version of "Spoonful" proved enough of a local hit that they returned to the studio with producer/songwriter John Hurley, this time recording a number of Gregg's increasingly sharp originals.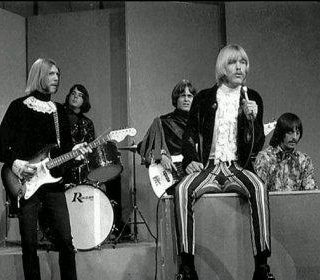 The Allman Joys eventually made their way west, sponsored in part by Nitty Gritty Dirt Band manager Bill McEuen. Reinventing themselves as Hour Glass, the band signed to Liberty Records and began making a name around L.A. by supporting such stars as Buffalo Springfield and The Doors. Two albums followed, 1967's HOUR GLASS and 1968's POWER OF LOVE, the latter highlighted by seven Gregg originals and liner notes by Neil Young, who also sat in on the album's sessions. Hour Glass then traveled to Rick Hall's FAME Studios in Muscle Shoals, AL, hoping to finally capture their evolving blues rock sound. Unfortunately Liberty Records did not appreciate the band's new direction and Hour Glass split soon after the sessions.
The brothers returned to Florida where they began collaborating with The 31st of February, a Jacksonville trio whose ranks included drummer Butch Trucks. Gregg soon headed back to Los Angeles, recording a solo album to fulfill both his and Duane's remaining Liberty contract. Though the sessions ultimately proved fruitless, Gregg spent considerable studio time writing songs and working with his new favorite instrument, the Hammond organ. Meanwhile, Brother Duane had returned to Muscle Shoals where he became FAME Studios' lead session guitarist, recording legendary tracks with such giants as King Curtis, Arthur Conley, Clarence Carter, and Wilson Pickett. Soon signed to a deal of his own, Duane began enlisting musicians including drummer/percussionist Jai Johanny Johanson and fellow Floridian, bassist Berry Oakley. They returned to Jacksonville, their extended jams luring in additional members including Trucks and Oakley's former bandmate, guitarist Dickey Betts.
Gregg finally returned to Florida and on March 26, 1969, Duane suggested he join the group for a run through Muddy Waters' "Trouble No More," encouraging his younger brother to "sing his guts out." The Allman Brothers Band was born.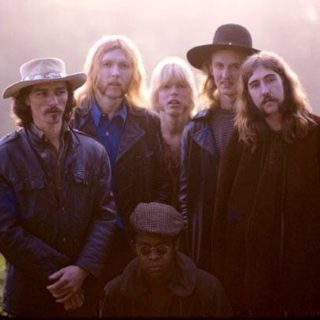 Signed to Phil Walden's new Capricorn Records label, the Allman Brothers Band virtually invented Southern Rock, blending blues, boogie, country, psychedelia, R&B, jazz, and rock 'n' roll into their own idiosyncratic musical stew. The band relocated to Macon, GA where they began forging the intuitive musical bond that came to define them, spending infinite hours rehearsing and jamming while also growing a local following for their improvisational ingenuity and creative interplay. Elongated covers were paired with Gregg's original songs, his songwriting voice fast proving as unique and inspired as his growing vocal power. Songs like "It's Not My Cross To Bear," "Dreams," and "Whipping Post" exposed a gifted and evocative tunesmith, remarkably adept at reconstructing traditional forms into modern classics.
Released in November 1969, THE ALLMAN BROTHERS BAND was immediately acclaimed if not an immediate commercial success. The band spent the next year on the road nearly non-stop, performing over 300 gigs across the country while also visiting studios in New York, Miami, and Macon to record what would be their second studio album. IDLEWILD SOUTH arrived in September 1970, less than a year after the band's debut. Recently named by Rolling Stone as one of the "40 Most Groundbreaking Albums of All Time," IDLEWILD SOUTH is home to one of Allman's defining songs, "Midnight Rider," an immediate FM radio favorite later covered by artists spanning Joe Cocker, Willie Nelson, Waylon Jennings, Theory of a Deadman, UB40, and reggae singer Paul Davidson.
Having earned a reputation as a spectacularly inventive and expansive live act, The Allman Brothers Band decided to showcase their on-stage strength with their third album, the legendary AT FILLMORE EAST. Produced by Tom Dowd over the course of two March 1971 shows at New York City's Fillmore East, the double LP proved the Allmans' world-changing breakthrough, seven songs over four sides culminating with a extraordinarily epic rendition of "Whipping Post." AT FILLMORE EAST was a phenomenon, earning RIAA gold within months of its July 1971 release. Now platinum certified, the album is a universally acknowledged milestone, a landmark American work selected in 2004 for preservation in the Library of Congress, deemed to be "culturally, historically, or aesthetically important, and/or inform or reflect life in the United States" by the National Recording Registry.
Tragedy struck on October 29, 1971 with the death of Duane Allman in a motorcycle crash. He was 24 years old. The Allman Brothers Band mourned his loss and then celebrated his accomplishments by returning to both the road and the studio, releasing EAT A PEACH in February 1972. Their most successful album thus far, the double LP collected a number of studio recordings – both with and without Duane – as well as additional cuts from the 1971 Fillmore East performances. Highlights include the towering "Mountain Jam" as well as Gregg's "Ain't Wastin' Time No More" – penned in the wake of Duane's passing – and the classic "Melissa," written in 1967 and beloved by Duane as his little brother's best song.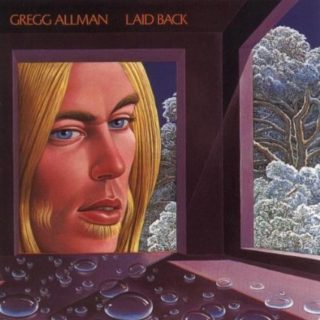 In March 1972, Gregg tracked a series of songs at Macon's Capricorn Studios with the goal of recording a solo album. Sessions continued, even as the Allman Brothers Band began work on its highly anticipated third studio album, BROTHERS AND SISTERS. Allman released LAID BACK in October 1973, kicking off the collection with a new version of "Midnight Rider" that proved a top 20 hit across North America. Allman commemorated the album's release with an unprecedented concert tour accompanied by a full string section comprising members of the New York Philharmonic, captured for posterity on 1974's THE GREGG ALLMAN TOUR. LAID BACK was both a commercial and critical success, earning RIAA gold amidst widespread acclaim.
Fate reared its head once again in November 1972 when Berry Oakley was killed in a motorcycle accident just three blocks from where Duane had lost his life little more than a year earlier. He too was 24 years old. The Allman Brothers Band carried on, finishing BROTHERS AND SISTERS in December before returning to the road. The album proved the band's most popular yet, topping the overall Billboard album chart for five consecutive weeks on its way to worldwide sales now in excess of 7 million.
The Allman Brothers Band took to the road once more, confirming their place as one of the most successful live outfits in rock 'n' roll history, consistently selling out arenas and stadiums across the country. July 1973 saw the ABB headline the historic "Summer Jam at Watkins Glen," teaming with the Grateful Dead and the Band at New York's Watkins Glen Grand Motor Raceway before a record-breaking crowd well in excess of 600,000.
The band went on hiatus in 1976, not before lending their support to fellow Georgian Jimmy Carter's presidential campaign. Allman quickly founded The Gregg Allman Band, releasing PLAYIN' UP A STORM in May 1977 to acclaim and chart success. The Allman Brothers Band made a brief return in 1978 but by January 1982, decided to hang up their boots once again.
Though the ABB had called it a day, Allman himself spent virtually all of the next few years on the road, performing anywhere, anytime, from small clubs to larger venues across the country. February 1987 saw the release of I'M NO ANGEL – the first album from The Gregg Allman Band in a decade. The album immediately returned Allman to the forefront of American popular music, boasting a pair of indelible hits in the chart-topping title track and the top 3 rock radio smash, "Anything Goes." JUST BEFORE THE BULLETS FLY followed in 1988, its title track co-written by future ABB guitarist Warren Haynes.
The Allman Brothers Band celebrated its 20th anniversary by reuniting in 1989, the four surviving founders now joined by new players including the aforementioned Warren Haynes and bassist Allen Woody. The group hit the road, including a series of fall dates at New York City's historic Beacon Theatre, a preview of what would become one of rock 'n roll's greatest traditions.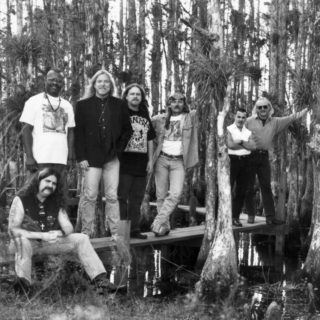 Fully revitalized, the Allman Brothers Band returned to the studio, teaming with longtime producer Tom Dowd for 1990's SEVEN TURNS and its #1 hit single, "Good Clean Fun." The addition of percussionist Marc Quinones that same year finally brought to life the triple percussion ensemble Duane had envisioned when first uniting the band. The ABB's rhythmic expansion fueled 1991's acclaimed tenth studio album, SHADES OF TWO WORLDS, recorded with Dowd at Memphis' famed Ardent Studios.
The Brothers' 1992 spring itinerary saw the band settle into the landmark Beacon Theatre for an extended 10-night run. Specifically selected for being closest in spirit to Bill Graham's long gone Fillmore East, the beloved Upper West Side venue became a second home for the band, with runs continuing semi-annually through 2014.
A series of acclaimed releases followed through the next decade, including 1994's WHERE IT ALL BEGINS and such live albums as AN EVENING WITH THE ALLMAN BROTHERS: FIRST SET, showcasing 1992's Beacon Theatre run, and 1995's GRAMMY® Award-winning AN EVENING WITH THE ALLMAN BROTHERS: 2ND SET.
Allman also found time in the Nineties to try his hand at acting, with notable performances in 1991's RUSH and HBO'S TALES FROM THE CRYPT. His own extraordinary solo discography grew with 1997's SEARCHING FOR SIMPLICITY, highlighted by an unplugged rendition of "Whipping Post."
The Allman Brothers Band was inducted into the Rock and Roll Hall of Fame in 1995, honoring their extraordinary history and lasting influence. The group underwent a number of personnel changes in subsequent years, but by 2001 had coalesced into what was hailed as one of the strongest line-ups in ABB history, with Allman, Haynes, Johanson, Quiñones, and Trucks joined by bassist Oteil Burbridge and lead guitarist Derek Trucks. Released in 2003, the Allman Brothers Band's twelfth and final studio recording, HITTIN' THE NOTE, drew critical applause as well as a pair of GRAMMY® Award nominations. That same year's LIVE AT THE BEACON THEATRE DVD also proved a classic, earning RIAA platinum certification and rave reviews for capturing the band at the peak of their on-stage powers. The 2003 Beacon run was further documented on ONE WAY OUT, hailed by rock critic Robert Christgau as "the best live album of (the ABB's) career."
The Allman Brothers Band celebrated its 40th anniversary in 2009 with a star-studded Beacon Theatre residency that saw appearances from such friends and luminaries as Bob Weir and Phil Lesh, Eric Clapton, Trey Anastasio and Page McConnell, Buddy Guy, Levon Helm, Robert Randolph, Bruce Hornsby, Billy Gibbons, and Sheryl Crow. Allman underwent a liver transplant the following year, returning stronger than ever with 2011's masterful solo landmark, LOW COUNTRY BLUES. Produced by T-Bone Burnett, the GRAMMY® Award-nominated album debuted at #1 on Billboard's "Top Blues Albums" chart, ascending to #5 on the overall SoundScan/Billboard 200 as it drew unanimous critical acclaim around the world.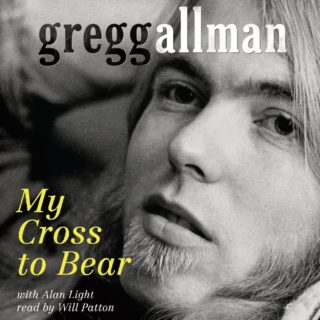 Allman detailed his brilliant career in 2012's acclaimed memoir, My Cross To Bear. Now available in both hardcover and paperback, the New York Times best seller chronicles a truly astonishing life and creative journey, all informed by wisdom, hindsight, and experience.
The Allman Brothers Band officially resumed active duty in 2012 with two sets at their own Peach Music Festival in Scranton, PA, now an ongoing summer tradition highlighted by annual sets from Allman and other ABB friends. The Allman Brothers Band wrapped up their storied forty-five year career in 2014 with their final Beacon Theatre run, culminating October 28th with a now legendary three-set marathon, their 238th consecutive sell out at the estimable venue.
That same year saw Allman honored by an array of fellow artists at "All My Friends: Celebrating the Songs & Voice of Gregg Allman," a once-in-a-lifetime concert held at the Fox Theatre in Atlanta and later released on CD/DVD to great acclaim. Allman himself followed the Allman Brothers Band's final bow with the 2015 release of "BACK TO MACON GA," a live two disc CD/DVD set capturing Allman and his eight-member band blowing the roof off Macon, GA's venerable Grand Opera House. August 2015 saw Allman innovate the summer concert experience with the first ever Laid Back Festival, a one-day event held at Wantagh, NY's Nikon at Jones Beach Theater and presented in partnership by Allman, longtime manager Michael Lehman, and Live Nation. Named after Allman's classic 1973 solo debut, the Laid Back Festival celebrated America's rich musical heritage with performances from Allman, The Doobie Brothers, Bruce Hornsby and The Noisemakers, Jaimoe's Jasssz Band, and more. Hailed as a new milestone on the increasingly busy summer concert circuit, Laid Back Festival also showcased Long Island, NY's diverse and delicious food and drink, with regional restaurants, food trucks, breweries, wineries, and other artisans represented at the festival.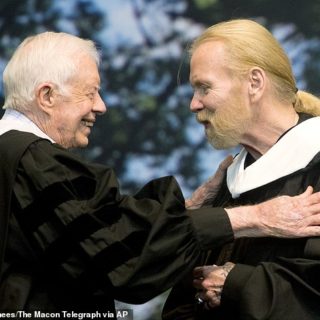 2016 proved an extraordinarily eventful year for Allman, kicking off with sold out winter and spring tours as well as his acceptance of an honorary doctorate from Macon, GA's Mercer University, presented by longtime friend, former President Jimmy Carter. The Laid Back Festival also expanded to include regionally focused shows in five American cities. Once again headlined and curated by Allman, the traveling one-day event boasted a diverse lineup that featured such superstars as ZZ Top, Peter Frampton, and Jason Isbell, not to mention a mouth-watering menu of local food and drink.
As if their non-stop live schedule weren't enough, Allman and his band also hit FAME Studios in Muscle Shoals, AL to work on a new solo album, SOUTHERN BLOOD. Produced by GRAMMY® Award-winner Don Was, the album will arrive in September of 2016.
Gregg Allman died due to complications from liver cancer at his home in Savannah, GA on May 17, 2017.  He played his last show October 29, 2016 at his own Laidback Festival in Atlanta, Ga.  Gregg's legacy will undoubtedly live on in his music.  Beyond dozens of studio and live recordings, Gregg passed on the opportunity of music to others in two scholarship funds.  The Gregg Allman Scholarship Fund at the University of Georgia and the Allman / Lehman Endowed Scholarship at Syracuse University.  In 2005 The Allman Brothers Band established the Wanee Music Festival and in 2012, the Peach Festival.  Both continue to provide the experience of live music that Gregg lived for.