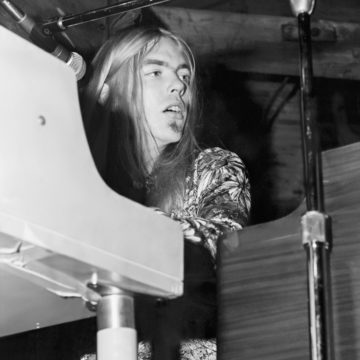 Gregg Allman: the very name conjures up images of rock and roll history. The most-renown blues singer of our time, his soulful vocals were the cornerstone of the Allman Brothers Band for 45 years; only the powerful voice of Gregg Allman could serve as a worthy match to the incendiary guitar solos of Duane Allman, Dickey Betts, Warren Haynes and Derek Trucks. A visceral writer, his timeless songs were reflections of his life, creating images of love and loss, triumph and tragedy. "Dreams," "Midnight Rider," "Melissa," "Whipping Post" – these classic compositions have stood the test of time, and have been enjoyed by three generations of fans. Never a showman or given to stage theatrics, Gregg would simply perch behind his Hammond B-3 and let his whiskey-soaked growl carry the performance. He rarely showed emotion even as he poured out his soul, and his quiet demeanor helped to shape his mystique as the road-weary bluesman, traveling from crossroad to crossroad. Gregg's compelling vocals on 1971's At Fillmore East helped to cement the ABB's status as the greatest live act in rock music, and eventually gain admission to the R&R Hall of Fame in 1995. In 2012, Gregg penned My Cross to Bear, his stark and painfully honest best-selling autobiography. That same year, the Allman Brothers Band was honored with a GRAMMY Lifetime Achievement Award.
As much as he loved the Allman Brothers Band, Gregg equally relished his career as a solo artist. Stepping away from the jam-based ABB allowed Gregg to express his softer singer/songwriter side. Starting with 1973's Laid Back, a true gem that contained the poignant tracks "Multicolored Lady" and "Queen of Hearts," Gregg would ultimately release six solo albums, including 1987's I'm No Angel and the GRAMMY-nominated Low Country Blues, which was one of the top-selling blues albums of 2011.
After being diagnosed with liver cancer in 2012, Gregg was determined to make the most of what time he had left. He continued to tour, and in 2016, went into FAME Studios in Muscle Shoals, AL, to record Southern Blood, which would turn out to be an extraordinarily personal farewell to his fans. Even as his health failed, Gregg was determined to see Southern Blood through to its conclusion; the night before he passed, he signed off on the final mixes for the album, working until his final note faded.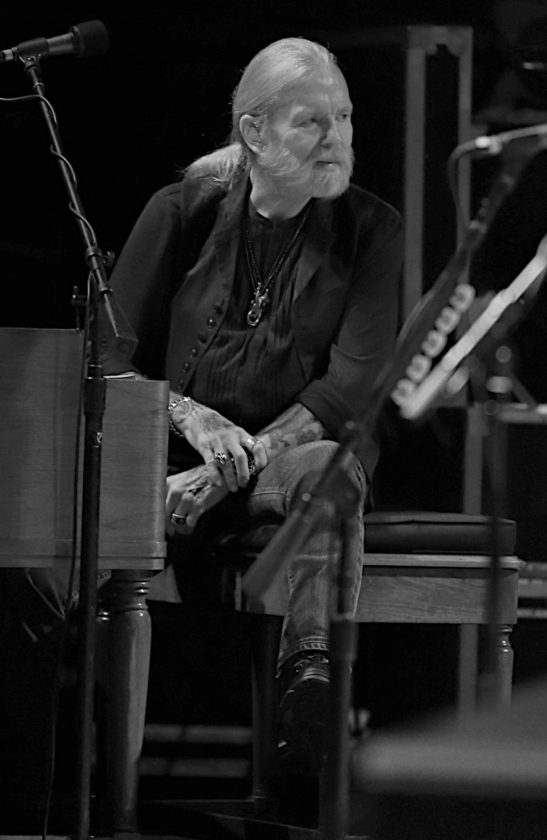 Gregg Allman passed away on May 27, 2017 at the age of 69, having lived a life dedicated to his craft. The voice of a generation may have fallen silent, but the music of the Midnight Rider will live on forever.
We invite Gregg's fans to continue their journey of love for his music here on GreggAllman.com.  We are here to support the legacy of Gregg's life and career by keeping a spotlight on the causes he held near and dear, including music education, Hepatitis C awareness, the critical need for organ donors and voter registration drives. No one loved to perform more than Gregg Allman, so we will keep you posted on the latest info about the Laid Back Festival, which Gregg took a true hands-on approach with. Greggallman.com also is the place to visit in the near future for Official Gregg Allman legacy merchandise and superb archival releases from Gregg's personal vault, which will be enjoyed by his current fans, as well as new ones yet to come. Thanks for your support as we continue to travel down the musical road that Gregg Allman paved for us all.
On June 15th, 2017, just weeks after Gregg Allman's passing, Allman's music director, songwriting partner and friend Scott Sharrard performed at Rockwood Music Hall's intimate stage 3, in New York City. Filmmaker Scott Rosenbaum of Redhawk Films captured the heartfelt solo performance interlaced with personal stories taken from life on the road with a music icon. This clip tells the story behind Gregg's writing of the song Win, Lose or Draw released by the Allman Brothers Band in August of 1975 on an album with the same title.