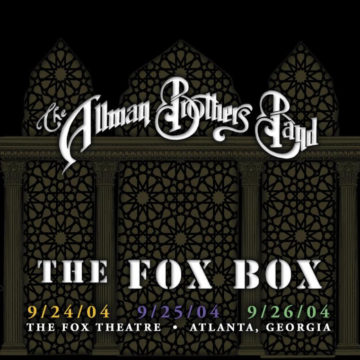 THE FOX BOX |  2004 THREE-NIGHT STAND FROM ATLANTA'S FABULOUS FOX THEATRE
When the ALLMAN BROTHERS BAND hit Atlanta's Fox Theatre for a sold-out three-night run in 2004, they were buoyed by the critical and fan reception of what would be their final studio album, Hittin' The Note.  The band had been touring heavily and were ready to settle down in their beloved Atlanta for three special nights.
Today the band digitally released all three shows as The Fox Box.  The physical release is April 28th.  The 8-CD set features a remastered audio mix.  These three September 2004 shows have a unique feature that ABB fans will appreciate: of the 53 songs performed, there is only one repeat, the sprawling "Dreams," played (three times), and each with a different voicing by the guitar soloist: DEREK TRUCKS, WARREN HAYNES and JACK PEARSON.
The Allman Brothers Band in 2004 featured founding members GREGG ALLMAN (keyboards, vocals) and drummers BUTCH TRUCKS and JAIMOE along with longtime percussionist MARC QUINONES, guitarists WARREN HAYNES and DEREK TRUCKS and bassist OTEIL BURBRIDGE.  Guitarist JACK PEARSON, who was in the band from 1997-99, was a special guest.  Other guests include Derek's bandmate/wife Susan Tedeschi, guitarist Vaylor Trucks (Butch's son who was captured on the rear cover of Brothers & Sisters as a child) and keyboardist Rob Baracco (Phil Lesh Quintet/Other Ones).
FOX BOX track list:
9/24/04 Disc 1
Mountain Jam
Trouble No More
Midnight Rider
Wasted Words
Worried Down With The Blues
You Don't Love Me
Ain't Wastin' Time No More
Disc 2
Rockin' Horse
Hot 'Lanta
Melissa
Come And Go Blues
Can't Love What You Never Had
Why Does Love Got To Be So Bad?
Franklin's Tower
Disc 3
Black Hearted Woman
Dreams (with Jack Pearson)
Mountain Jam (reprise) (with Jack Pearson)
Southbound (with Jack Pearson)
9/25/04 Disc 1
Les Brers (Intro)
Don't Want You No More  / It's Not My Cross To Bear
Statesboro Blues
Stand Back
Who's Been Talking
Soulshine
Good Clean Fun
Old Before My Time
Woman Across The River
Instrumental Illness
Disc 2
The Night They Drove Old Dixie Down
Leave My Blues At Home
Key To The Highway
Don't Think Twice, It's Alright (with Susan Tedeschi)
One Way Out (with Valor Trucks)
Blue Sky
Dreams
Les Brers In A Minor
Layla
9/26/04 Disc 1
Revival
Every Hungry Woman
Done Somebody Wrong
Hoochie Coochie Man
Desdemona
High Cost Of Low Living
44 Blues
End Of The Line
Disc 2
Dreams
I Walk On Gilded Splinters
Stormy Monday
The Same Thing (with Rob Baracco)
In Memory Of Elizabeth Reed (with Rob Baracco)
Disc 3
In Memory Of Elizabeth Reed (cont'd, with Rob Baracco)
Don't Keep Me Wonderin'
No One To Run With
Whippin' Post