Dr. Steve Carpenter was more than Gregg's doctor for over a decade, he was his good friend.  Here, Dr. Carpenter shares a story of friendship and a visit to Macon, GA.  Great insight from Gregg's inner circle.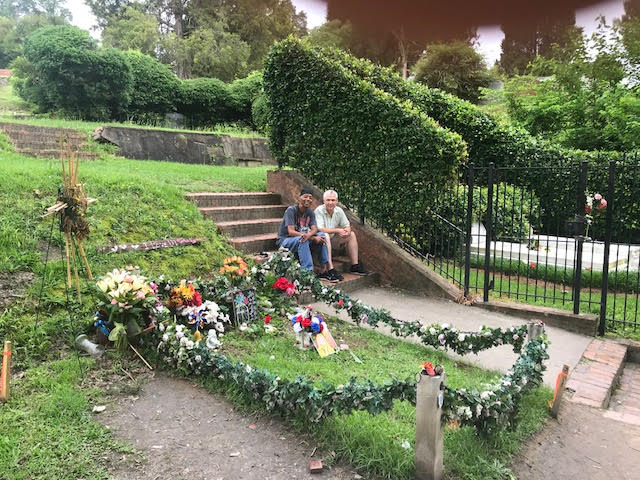 One year ago, I got a call from Chank Middleton.
Just then, my patient and friend, Gregg Allman, had died at home. Gregg had suffered a prolonged illness and, thankfully, he was comfortable.  I had the unique opportunity to be Gregg's physician, friend, and fan. For more than a decade, Chank and I would deal with this fever and that pain, but cancer has no compassion.
Memorial day weekend this year, I knew to be the one-year anniversary of Gregg's death. After visiting my mother, I left her early that Sunday morning to beat Atlanta traffic and journeyed to Macon not far from where my mother raised me in the tiny town of Reynolds. I went to Rose Hill Cemetery, where Gregg had been laid to rest next to his brother, Duane, and Allman Brothers bandmate, Berry Oakley.
For a child of the 70's growing up in Reynolds, the cultural influence of the Allman Brothers Band (ABB) cannot be over emphasized. Their music was everywhere. My mother drove us young boys to Byron in 1971 to "go look at the hippies." When we went shopping in Macon and after we had turned in our S & H green stamps, she would drive us past Capricorn recording studio to take a look. There, Southern rock was flourishing. My older brother, Stan, attended college at Mercer University in Macon in 1973. He would bring his ABB albums home and my younger brother, Randy, and I would listen intently.
Rose Hill cemetery and its trees are old, you can feel it. The cemetery is on a bluff overlooking the lethargic and pigmented Ocmulgee River. The air was thick that morning.
But Rose Hill is also peaceful and quiet. I sat alone for a while by Gregg's grave. I heard and then watched a train pass slowly, and I noticed how recent rains had the Ocmulgee River running high with deep red water. I took a photo with Gregg's grave, and as I walked back to my car, I and texted it to Chank Middleton, Gregg's best friend.  Gregg called him "bro," and treated him like a brother.  Immediately, Chank called me.
"Dude, where are you?"
"I'm with Gregg."
"Stay there. I'll be right with you."
After another train passed by — and I suffered more than a few mosquito bites —  Chank arrived and we walked up the hill, back to the brick steps near Gregg's grave. As Chank tended the gravesite, we remembered Gregg, telling stories and thinking about how we missed him. The grave is decorated with mementos delivered by Southern rock pilgrims. Chank told me the gravestone would be coming soon. The family had finally decided for just the right stone and inscriptions. Chank told me he visits Gregg's grave once or twice a week. Given the beautiful unique setting, and his deep personal bond with Gregg (and Duane and Barry), this made complete sense to me.
While Chank and I sat, others visited. One fellow drove his wife and son all the way from New Orleans to visit the grave. He immediately recognized Gregg's confidante. In thick Louisianan he said, "Wow, this is an honor Mr. Chank!"
After a few photos and handshakes, they departed, and Chank and I had time for more stories. We talked about MLK, segregation, and growing up in the South. A Vietnam vet wearing a Deep Purple tee shirt was having trouble navigating the stairs despite his cane. With no hesitation, Chank took an arm and helped him to the gravesite. Later, a motorcycle armada announced their arrival with loud Harley belches. Not speaking and in leather boots, they paid homage as well. Words are not a prerequisite at Rose Hill.
"You hungry?" You bet I was. We headed to the H & H. I followed Chank through Macon's steep side roads to the soul food mecca. H & H restaurant is located closely to the old Capricorn records studio and part of ABB lore. As we walked thru the door, a lady immediately stood. "Chank!" I took a photo for her and then two others wanted the same. We sat and ALL the staff came by to say hello. Chank's girlfriend, Amber, was able to make it which was a plus. I decided against the smoked ham with biscuits and gravy named after Chank on the menu and opted for the fried catfish, grits, and gravy with collard greens on top. The music was exclusively superb cuts by ABB. The walls are decorated with southern rock memorabilia. After more stories, more friends coming to say hello, and some fantastic food, we departed with a handshake and a bro hug.
I'm happy that I made the trip. I'm happy that I texted that photo. And, I'm happy I visited Gregg, and in doing so, bonded once again with my friend, Chank Middleton.