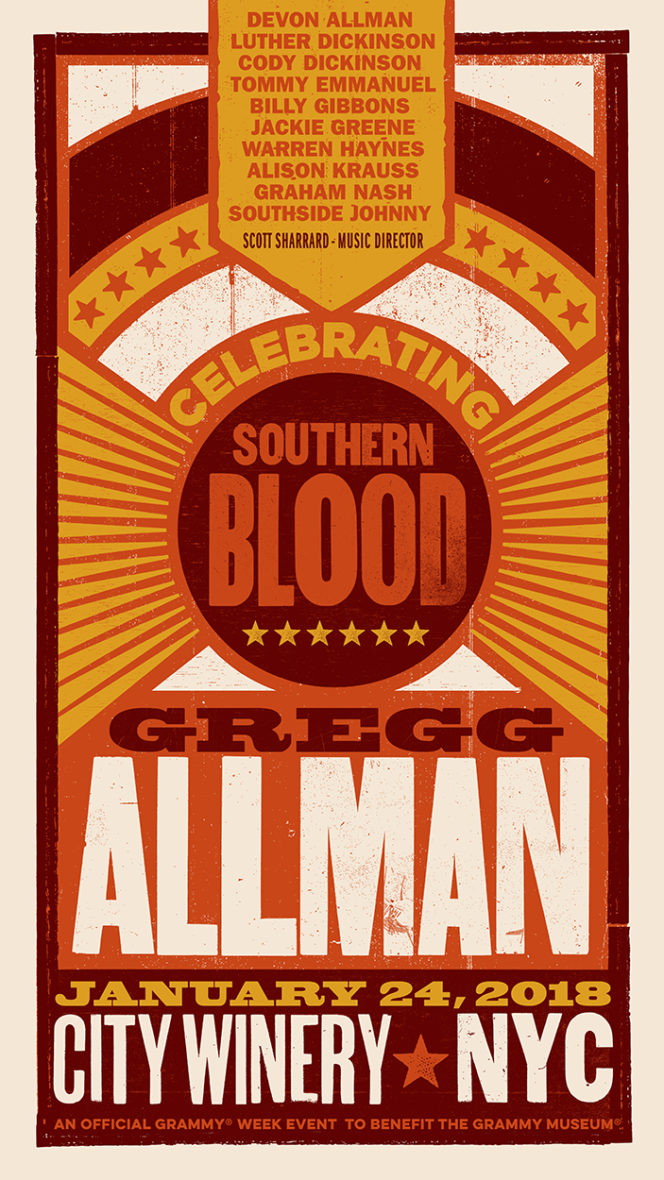 Presented in conjunction with Rounder Records and the Recording Academy Grammy® Museum, Southern Blood: Celebrating Gregg Allman featured performances by Devon Allman, Layla Brooklyn Allman, Cody Dickinson, Luther Dickinson, Tommy Emmanuel, Billy Gibbons, Jackie Greene, Warren Haynes, Alison Krauss, and Graham Nash; with musical direction from Scott Sharrard.  The event was held on Wednesday, January 24th at the City Winery in NYC.
"Gregg Allman is one of the most pivotal figures in the canon of American music," said Scott Goldman, GRAMMY Museum Executive Director. "As a founding member of the Allman Brothers Band, he was a pioneer in a quintessentially American form of music that melded blues, jazz, and rock. We are honored to continue to celebrate his life, and his final album, by bringing this special event to GRAMMY Week in New York."
"Gregg would have been so pleased to know that Southern Blood has received the type of recognition that it has," said Michael Lehman, longtime manager for Allman. "He also would have been so touched by this beautiful event that was planned by the GRAMMY Museum and his friend Scott Goldman, and filled with musicians that he loved and admired that want to pay tribute to his legacy."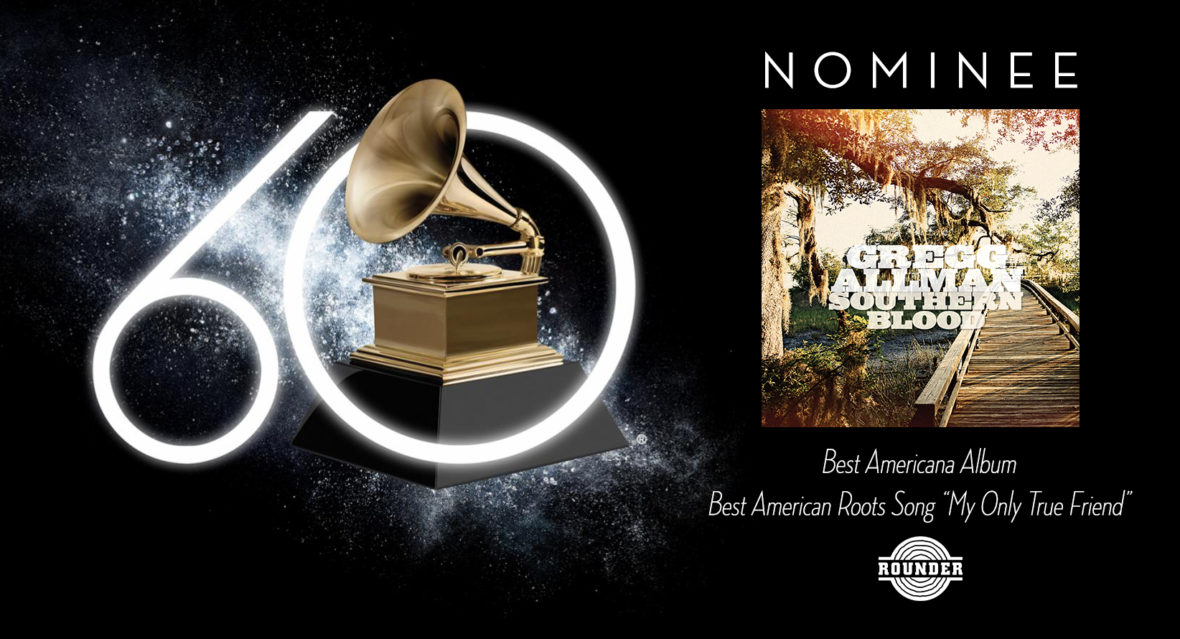 Gregg Allman's Southern Blood, which has been nominated for two awards at the 60th Annual GRAMMY Awards® (Best Americana Album and Best American Roots Song for "My Only True Friend" with Scott Sharrard) serves as a remarkable final testament from an artist whose contributions have truly shaped American music throughout the past four decades. Produced by Don Was and recorded in Muscle Shoals where Duane Allman and the earliest seeds of the Allman Brothers Band were sown, Southern Blood is among the most uniquely personal of the Rock and Roll Hall of Famer's career.

Alison Krauss and Tommy Emmanuel play Come And Go Blues
About The Grammy Museum
Established in 2008 as a partnership between the Recording Academy and AEG, the GRAMMY Museum is a non-profit organization dedicated to cultivating a greater understanding of the history and significance of music. Paying tribute to our collective musical heritage, the Museum explores and celebrates all aspects of the art form—from the technology of the recording process to the legends who've made lasting marks on our cultural identity. In 2017, the Museum integrated with its sister organization, the GRAMMY Foundation, to broaden the reach of its music education and preservation initiatives. As a unified organization, today, the GRAMMY Museum fulfills its mission of making music a valued and indelible part of our society through exhibits, education, grants, and public programming.
For more information, visit www.grammymuseum.org, "like" the GRAMMY Museum on Facebook, and follow @GRAMMYMuseum on Twitter and Instagram.